Welcome to the Secret Information Club!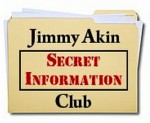 Howdy, friends!
You've found the web site for the Jimmy Akin Secret Information Club.
I hope you'll join!
If you do, you'll receive exclusive material by email that I'm not going to be making available anywhere else online for free. Not on my blog. Not on my podcast. Not on Facebook. Just for club members.
My plan is to make it fun and informative for everyone!
Pope Benedict on the Book of Revelation
The very FIRST thing people receive is a special "interview" I did with Pope Benedict about the Book of Revelation (i.e., "the Apocalypse").
The interview covers things like:
Who wrote the Book of Revelation? (The Pope says it's not as simple as you may think.)
How should we understand the book?
What is the single most important symbol in the book?
How can we understand the mysterious scroll that no one but the Lamb can open?
Who is the Woman clothed with the Sun? (Pope Benedict says she represents more than just Mary.)
What does the persecution of the Woman by the Dragon symbolize?
Should we be frightened by what we read in Revelation?
I often do "interviews" like this in which I pose questions, the answers to which are taken from the pope's writings. People tell me that they really like that because it makes them easier to read and understand.
You should sign up right now using this handy signup form:
And there's much more!
You'll Also Get . . .
Here are some of the fascinating topics that you'll also get information on if you join:
1st century Christian writings that *aren't* in the New Testament (and what we can learn from them)
What the Vatican considers the absolute *worst* liturgical abuses
What Pope Benedict wants you to know about the mystery of Purgatory
How Pope Benedict understands the sinister figure of Judas Iscariot–and his eternal fate
What Pope Benedict wants you to know about that perpetually thorny issue: private revelation
And much more!
Why Call It the "Secret Information Club"?
I'm often asked why I called it my "Secret Information Club." That's a bit of whimsy to make it more fun for members. After all, joining a secret club is *so* much more fun than signing up for an email newsletter.
It's also secret in this sense: I take your email privacy *extremely* seriously. I *will not* give your email addresses to others, and I *will not* send you stuff that you do not want to receive. I hate spam as much as everyone else, and you can automatically unsubscribe at any time.
What Do Others Think?
The Secret Information Club has been extremely popular. So far, more than 5,500 people have subscribed, and 96% have stayed members. That's how much they're enjoying it: It has a 96% satisfaction rate!
Here's what one club member–the famous author, blogger, and apologist Steve Ray–has to say:
"Bravo, Jimmy! I look forward to your secret messages as a member of your Secret Information Club.

Actually, I like it that you do a lot of research I wish I had time to do.

Don't tell anyone–this is a secret–but I copy each one and save it in my Logos Bible Software program for future reference.

Very valuable, fun, and great content. Keep up the good work."

Steve Ray
www.CatholicConvert.com
Also, here's what Deacon Harold Burke-Sivers ("the Dynamic Deacon"), has to say:
I joined Jimmy Akin's Secret Information Club a while back, and I thought you might like it.

It's fun and informative. Jimmy sends out information about the Catholic faith and makes it easier to understand.

Tell him the deacon sent you!

Deacon Harold Burke-Sivers
www.DeaconHarold.com
How You Can Sign Up and Get Pope Benedict's Teaching on Revelation in Just Moments:
If you would like to try the Secret Information Club and see how you like it, awesome!
You should sign up using this handy signup form:
Sign up now to get in on all the secret information action! Best of all, it's FREE!
If you have any trouble, just email me at Jimmy@SecretInfoClub.com, and I'll be more than happy to help!
Also, tell your friends, because secret clubs are cool, and mine is one that anyone can join!
Thanks, and I'll see you in the Secret Information Clubhouse!
Your pal,